The trampoline is a 20th-century invention with a rich history that includes the circus, World War II, the Olympics, and even NASA. American gymnast George Nissen invented the trampoline in the 1930s using tire tubes and pieces of scrap steel.
Nissen first created it in preparation for his circus performance and then made it for tumblers for teaching acrobatics. The trampoline became popular in the 1950s as a jumping center for gas stations, where children had fun while their parents refueled gas.
During World War II, the US Navy Flight School used a trampoline to train its pilots and navigators. NASA also uses it to train its astronauts for space travel. The trampoline has also become an Olympic sport since 1997.
Trampolines aren't limited to fun or bouncing only. In fact, trampolines have many different uses and are available in different types, sizes, and price ranges. And you might be shocked to find out the details about the different types of trampolines.
You may have seen trampolines in yards as well as in the gymnasium. Perhaps you also liked the exciting performance of trampolines at the Olympics. And at some point, you might be wondering what the difference is between Olympic trampolines and backyard trampolines. So, we will go into detail about the different types of trampolines and how best to use them.
The Best Features to Look for When Buying a Trampoline
A Solid Base – the last thing you want when jumping is to tip over the trampoline. Choose a trampoline with a weighted base or a trampoline that can be attached to the ground. If the trampoline you are purchasing does not have any of these features, then you will need to factor in the additional cost of purchasing anchors to secure the base.
Rust Resistant – Trampolines have to withstand all weather conditions, especially if you plan on not using them all year round. Many metal parts of a trampoline tend to rust over time due to rain and snow. Trampolines with a rust-resistant frame and springs will last significantly longer than trampolines without this extra layer of protection.
Extra Fun – Get the most out of your trampoline by finding a trampoline with extra features to suit your needs. Your family may like a trampoline with a basketball hoop, while young children will have a better time with the handle for added balance. It all depends on what you and your family like the most.
What is The Best Shape For a Trampoline?
Square Vs. Round Trampolines
Frame by frame, a square trampoline offers more jumping space than a round trampoline. Also, you can expect a consistent bounce in all areas of the square trampoline mat versus the round trampoline. For those who don't know, a round trampoline usually has some pretty spots in the center. The edges of a round trampoline tend to bounce poorly. Generally speaking, the square trampoline is also available with a higher carrying capacity. But they usually cost more than a round trampoline. In addition, they are not as light as a round trampoline.
Round Trampoline Vs. Rectangular
The round trampoline is the most common on the market. The shape redirects the user to jump to the center of the trampoline. So, a round trampoline is safer than a rectangular one. In fact, safety is one of the main reasons a round trampoline is considered higher than a rectangular model. On the other hand, a rectangular trampoline can offer a trampoline with better bounce. Therefore, gymnasts and buyers looking for a high rebound prefer the round trampoline.
Oval Trampoline Vs. Round Trampoline
An oval trampoline offers more jumping space than a round trampoline, from one side to the other. Thus, the construction is almost similar to the round trampoline but provides better bounce. But you have to put in some extra effort to get a bigger bounce. If you want to keep your kids from climbing high in the air, a round trampoline is better. Thus, the reduced flight of the circular trampoline is actually a good safety measure.
Trampolines Size
Variable size trampolines are needed for different purposes, acrobatic age, and weight. Here are brief descriptions of trampolines of different sizes depending on their skills:
Large Trampolines
Gymnasts usually need a higher jump and a bigger trampoline. Sizes may vary depending on their choice. Round trampoline users are advised to take a 14-foot trampoline. If you are a rectangular jumper, trampolines 10 x 17 feet or larger are recommended.
Medium and Small Trampolines
Kids and teenagers need a medium to small trampolines. In addition to the rebound, the issue of safety is also important for them. Their standard sizes are 7×10, 8×12, 9×14 feet trampolines. For round trampolines, the diameter should not exceed 12 feet.
Pre-school Trampolines
Most trampoline manufacturers make mini trampolines for young children. They have a lower weight capacity and elasticity compared to larger ones. These low jump trampolines are securely protected whilst giving fun.
Different Types of Trampolines and How to Use Them
Most people think of trampolines as soon as they hear about them. We differ from this limited point of view. Rather, when discussing trampolines, we will classify them by shape, spring, use, installation location, and body. This will help you grasp the main ideas and differences with ease without getting confused. Check out the below 18 different types of trampolines and its uses:
1. Round Trampolines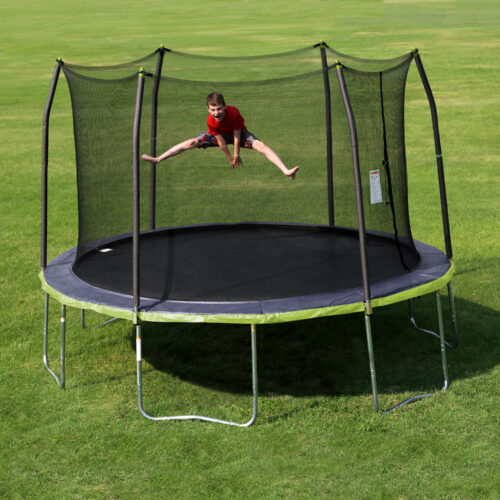 Round trampolines are probably the most common type of trampolines you can see in your backyard. These trampolines are great for outdoor use and are usually available in many sizes. You will also see people using trampolines indoors, although using mini trampolines would be a much more common option. These round trampolines have several qualities that you should be aware of as well.
The round spring design of these trampolines reduces the risk of injury. When you jump on these types of trampolines, they will naturally guide you back to the center. This makes it less likely that you will fall off the trampoline. The design is very good for outdoor use because it prevents people from falling and allows them to focus on their entertainment.
Round trampolines are also the most common design used in trampolines for young children. It is a simple yet effective construction that will help you keep your trampoline safe. This does not mean that accidents cannot happen on the round trampoline, but only that they are slightly less common. You can also find round springless trampolines on the market that can provide extra safety.
The number of different round trampolines on the market is impressive. You will be able to find high-quality models that are expensive but also have a lot of payloads. There are also many economical ways to keep kids and teens entertained in the backyard. This will likely be the first trampoline you will buy if you are on a tight budget due to the fact that there are so many round trampolines on the market.
Round trampolines offer good bounce to users jumping in the center. The springs attract the attention of the central square. Therefore, consumers are forced to use the center of the trampoline rather than the sides. As a result, the circular dimensions of the trampolines are relatively safer than other forms of trampolines. But a small or large round trampoline may not be the best choice for many jumpers.
2. Rectangular Trampolines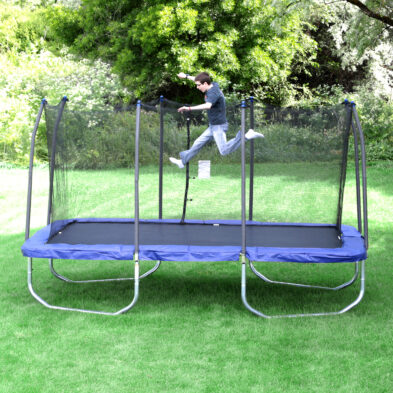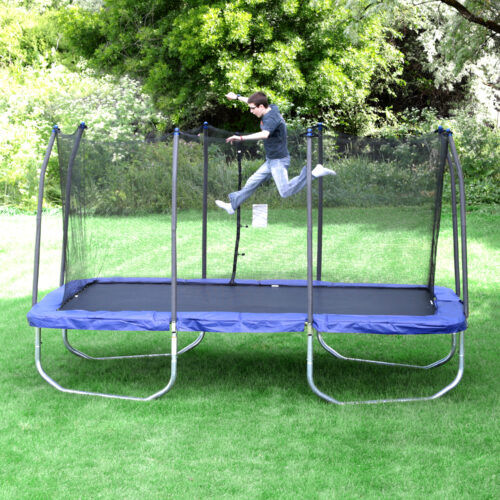 Rectangular trampolines are very different from round ones. They have a different bounce pattern and are preferred by the professionals. These rectangular models are often bought by people who compete in gymnastics and those who regularly use trampolines. They are very good for people with little space as they are available in smaller sizes and can be easier to maneuver just because of their shape.
The downside of trampolines is that they are usually significantly more expensive than round ones. This may not be the most economical option if you are just looking for a trampoline for entertainment purposes. However, in certain places, they will work better. The rectangular design makes it easier to position the trampoline than the rounded one.
It is interesting to note that rectangular trampolines have what the pros call the "sweet spot." This is where you can get by jumping on a trampoline to get a really good jump in the air. Professionals should be well versed in trampoline jumping when participating in gymnastics or other sports in which they are used. Parkour professionals and obstacle course enthusiasts also regularly train on these trampolines.
The rectangular trampoline shown here is pricey but very safe and effective. This is a popular model among gymnasts and cheerleaders. You can have fun while exercising on this trampoline, and it is also suitable for recreational purposes. The steel frame of this trampoline is exceptional and will fit your purpose perfectly.
3. Square Trampolines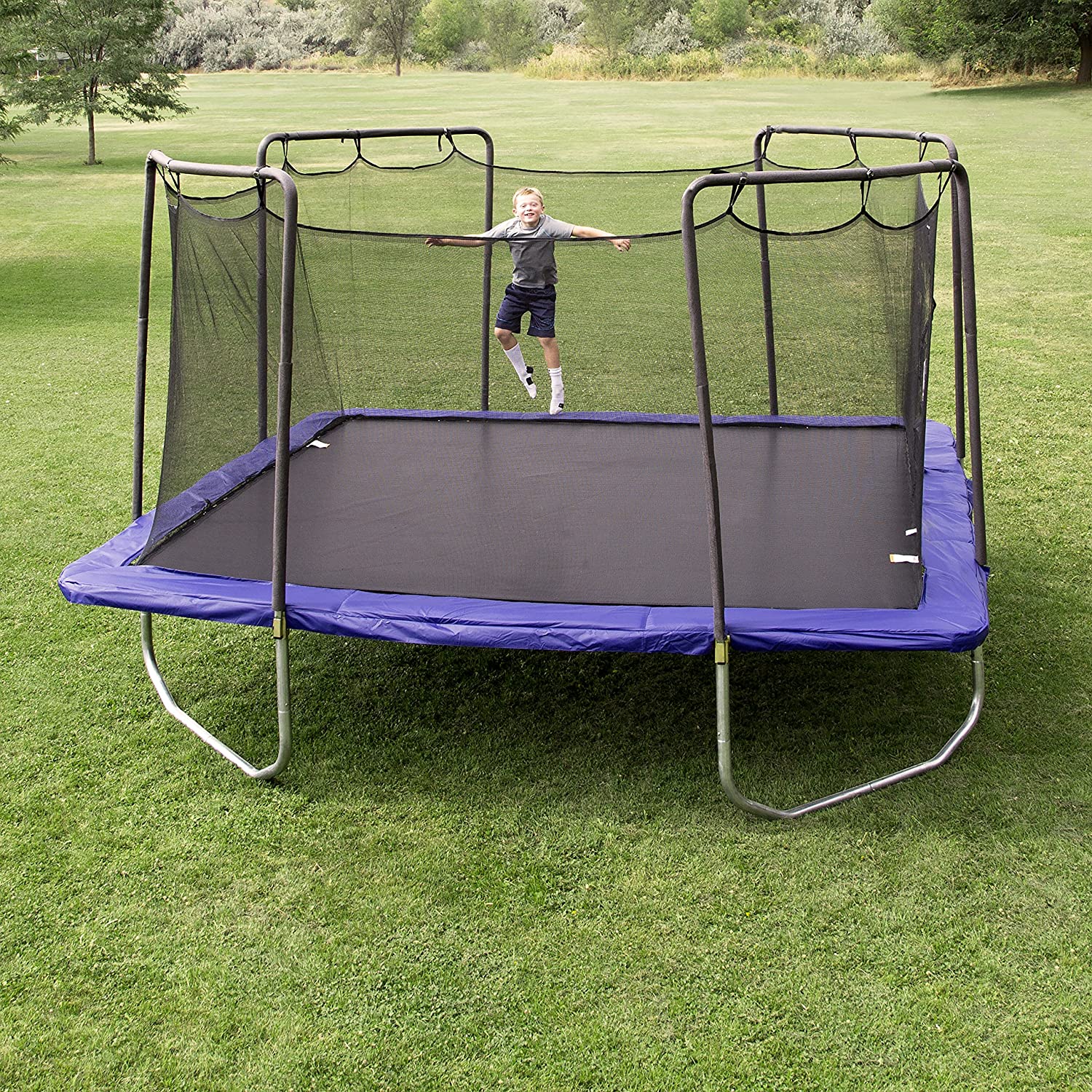 Square trampolines are wind act like a kind of bridge between round models and rectangular trampolines. Buying one of these will be great if you're just starting out. They are suitable for training in certain situations and are also perfect for a little fun. Square trampolines are not as expensive as rectangular ones and offer the same safety as round models.
Square trampolines are not good as common as round ones, but they are still quite common. They are suitable for both indoor and outdoor use, depending on the size of the trampoline. They will still be a more expensive option than round trampolines, but it's nice to have fun and work well for training purposes. Whether or not you really need to buy this type of trampoline depends on what you plan to do with it.
If you want to exercise with having some fun, this is a practical trampoline. If the trampoline is needed only for entertainment purposes, it will be more profitable to buy a round trampoline. You can probably get a larger round trampoline with a higher load capacity at a more affordable price. Square trampolines are not too expensive, but they are not as affordable as round models.
With this in mind, some people actually prefer square trampolines. If you like square models more, then you should buy them. He will definitely be able to give your family many hours of fun. Just make sure you buy the right size so everyone can have a good trampoline experience.
4. Competitive Trampolines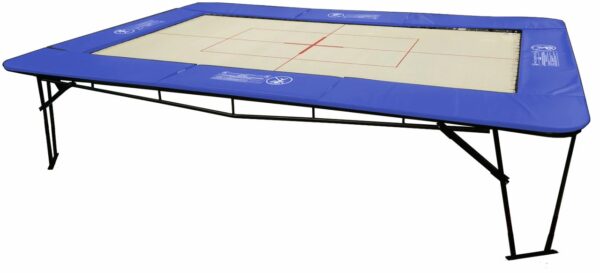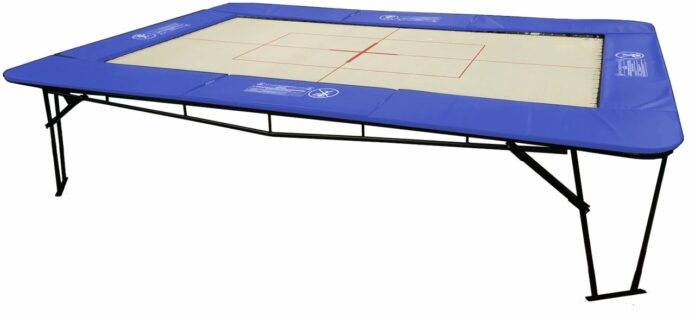 The competition trampolines are highly efficient units and are used for professional purposes. They provide a high rebound equal to burning a lot of energy. These trampolines are mainly used by experienced trampoline users as gymnasts and athletes in Olympic sports.
Olympic trampolines are made of durable materials that provide a higher bounce. For their excellent characteristics, they are more expensive than conventional trampolines. If you are not a professional gymnast, do not use them.
5. Hexagonal or Octagonal Trampolines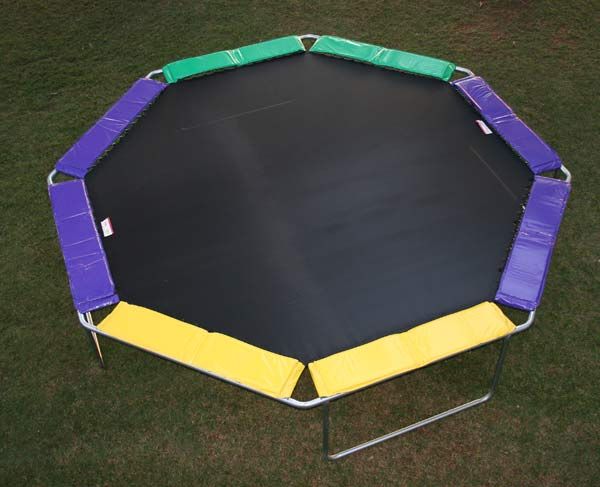 The final trampoline shape you need to know is the octagonal trampoline. Many people love these octagonal trampolines because of their large size. If you want a lot of people to jump on the trampoline at once, it makes perfect sense to have an octagonal model. It has a very large surface, allowing more people to enjoy the trampoline at the same time.
Of course, you still need to adhere to the weight limits that are listed on every trampoline you buy. However, these trampolines have proven to be popular due to their large size. How large an octagonal trampoline is will vary greatly. You can find small and very large trampolines that the whole family can use.
How these trampolines will feel when jumping on them will also be very different. Depending on the size, you will experience different types of bouncing. Sometimes the more compact octagonal models allow for a tighter, higher jump. However, it will be a fun trampoline for the whole family.
Many octagonal designs will be geared towards children. It looks more like a fun trampoline. The ideal option would be to allow several children to play on the trampoline at once is 450-pound weight limit, and some adults will also like it.
These octagonal trampolines are not as affordable as traditional round trampolines. You should choose an octagonal trampoline if you have more useful surface space to bounce a lot. Otherwise, you can be sure to buy a round trampoline. Weigh your options and consider which trampoline is best for your needs.
6. Mini Joggers Trampolines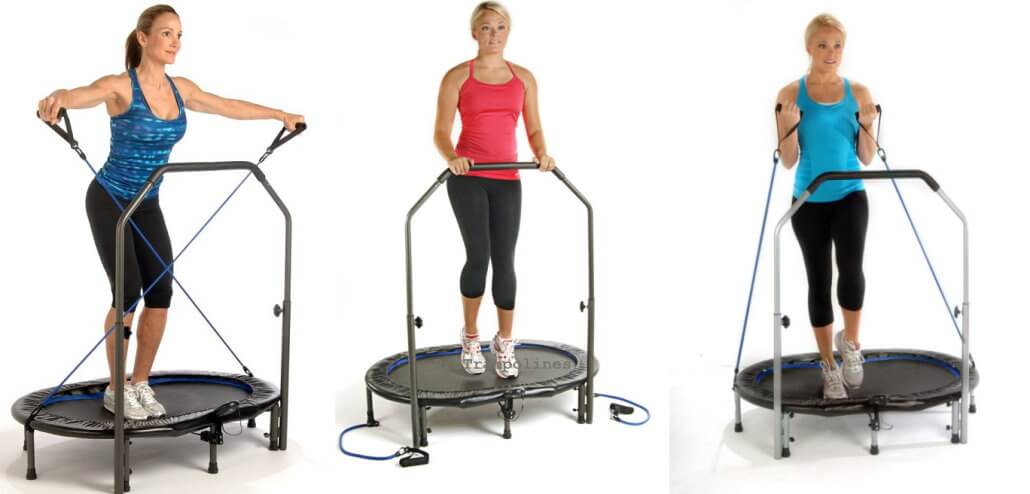 Mini jogging trampolines are ideal for those with little back garden space and for keeping in shape.
For kids, the 5-foot play trampoline provides fun in a small area, while for adults, the 36-inch and 40-inch running/rebound trampolines from V-fit and Studio Pro can be used for light indoor exercise
7. Inflatable Trampolines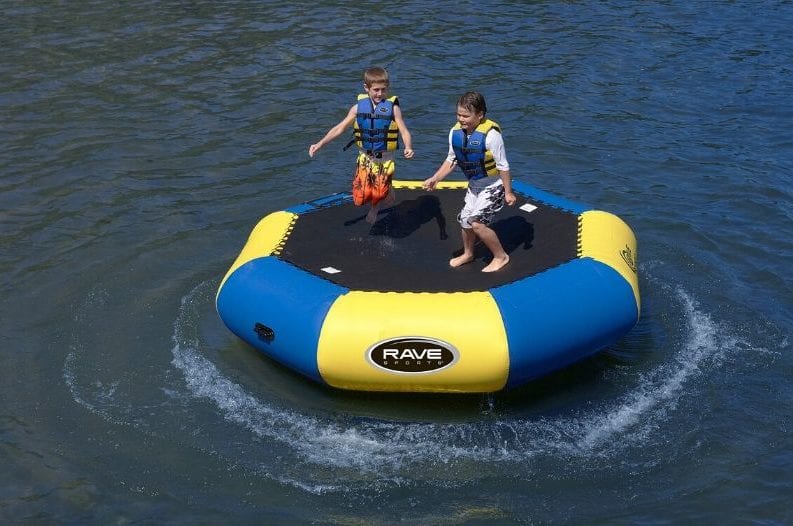 Luxury water trampolines or standard inflatable trampolines? Whatever you choose, you will have the most enjoyable time in your life.
The water versions are quite expensive and are mostly used as a rental service. If you have it, you will enjoy using it.
The most common inflatable trampolines are used by young children to engage and rule the inflatable castle.
8. Mini Trampolines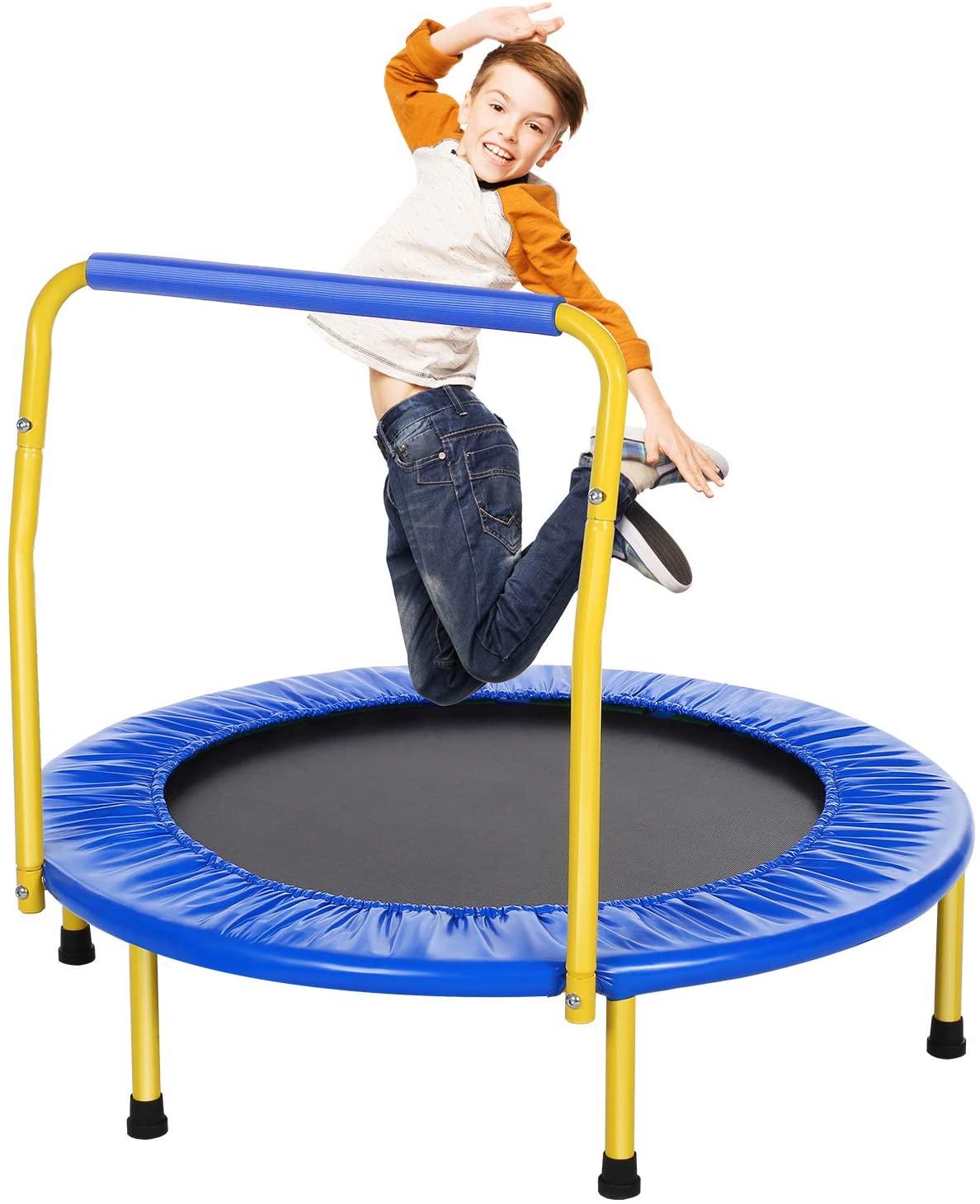 Mini trampolines are sometimes called fitness trampolines. These types of trampolines can be used for many different purposes. Some people use these trampolines to practice jumping. People who compete in gymnastics need to use trampolines for several different sports, so being able to train on them is very important.
The small size of these trampolines also makes them convenient for training in small spaces. Regular exercise, known as rebounding, can actually work most of your muscles. You can train on one of these mini trampolines, and you will see great results. A trampoline of this size should fit even in a small apartment, making it a very practical option.
You can use this mini trampoline as a great way to lose weight. Burning calories while rebounding will be very easy. Over time, you will be able to increase your strength and endurance. This is definitely a great option, and if you want to train in a different way, you should give it a try.
9. Water Trampolines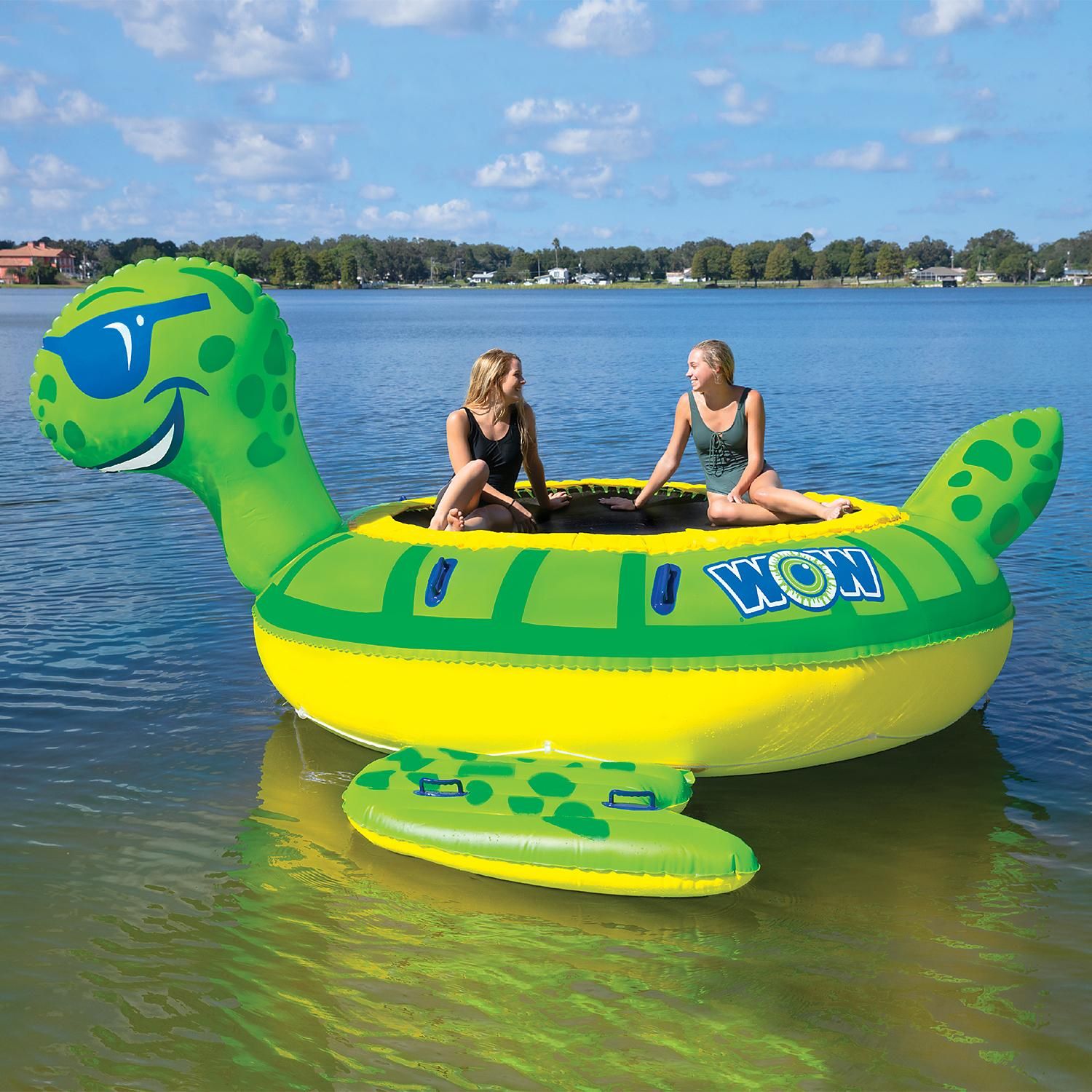 Water trampolines are slightly different from other trampolines on this list. They are just as enjoyable as other trampolines, but they are a completely different activity. If you've never seen a water trampoline before, know that this is an inflatable platform that people will jump on. These water trampolines are often very large and lift people high into the air.
These trampolines are designed for use in large natural bodies of water. You can often find people using them in conjunction with water slides. The idea is for someone to slide down the water slide and climb onto the trampoline below. The other person will lie on the opposite side of the trampoline and will be thrown into the air by the person who landed on the trampoline.
People throw themselves into the water, and it can really be a lot of fun. There are several dangers associated with this activity, so make sure you have good swimmers in case anyone runs into any problems. This should definitely be a good way to enjoy a hot summer day if you take the right security measures. This is a major part of summer entertainment for many people, and it has become a cult activity in itself.
There are also some water trampolines that look a little more like traditional trampolines. These are trampolines that sit in an inflatable structure. People can climb onto the trampoline and then jump on it as usual. People often use these trampolines for impressive jumps in the water.
The version of this trampoline shown here is similar to the traditional models. When properly inflated, it is 25 feet in diameter and 42 inches in length. If you live by the lake, this will be a great addition to your summer vacation. Trampolines like these are usually too large and dangerous to use in swimming pools, so make sure you use them in a large natural pool. As long as you are safe, it will be a blast for your children.
10. Caged Trampolines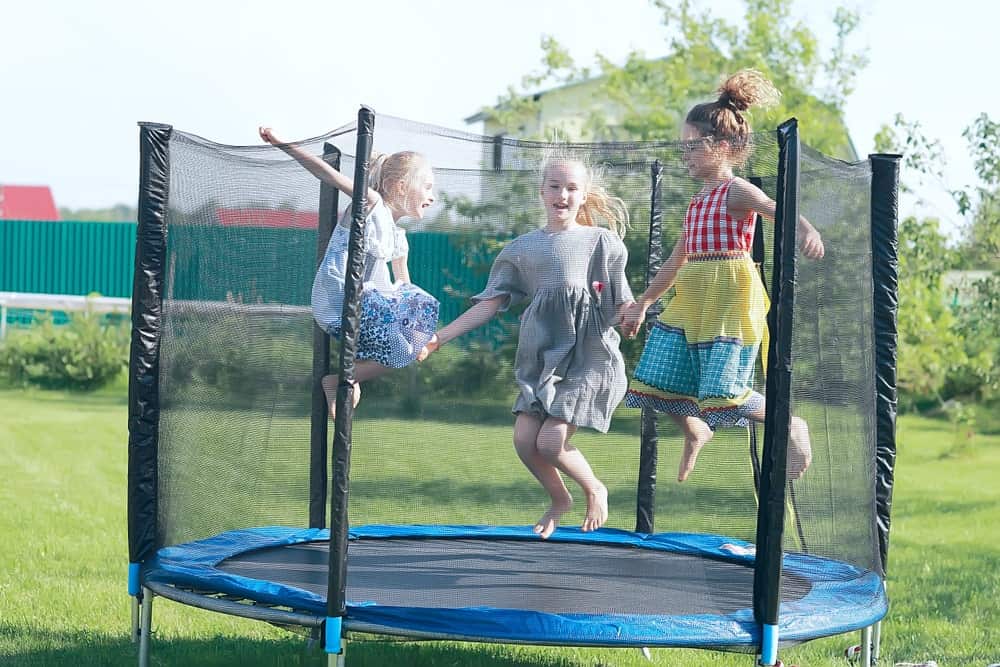 Available in various shapes and sizes, the cage trampolines keep the jumpers safe as they come with a mesh cage. This prevents the jumpers from falling to the ground and allows them to fully enjoy jumping on the trampoline.
The mesh cage is transparent, so you can watch your kids play. Storing trampolines in backyard cages will provide your kids with endless hours of safe fun. A safety net (cage) is often offered as an addition to standard trampolines at an affordable overall price.
11. Rebounder Trampolines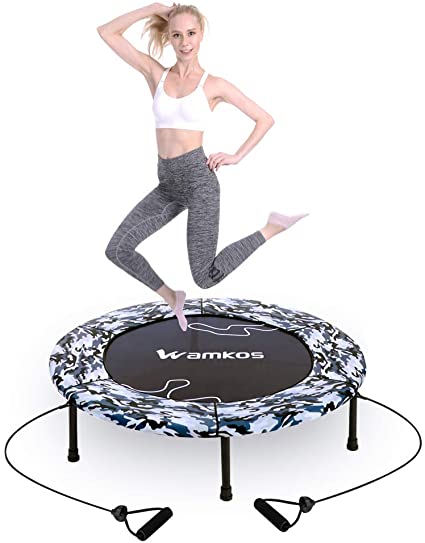 One of the smallest trampolines is the rebounder or mini-trampoline. These small, compact trampolines are designed for indoor use by one person and are designed to increase your heart rate with vigorous movement, often seen in exercise videos.
They are small enough to be hidden in a closet or under a bed when not in use, making them an ideal choice for people living in a small house or apartment.
12. Oval Trampolines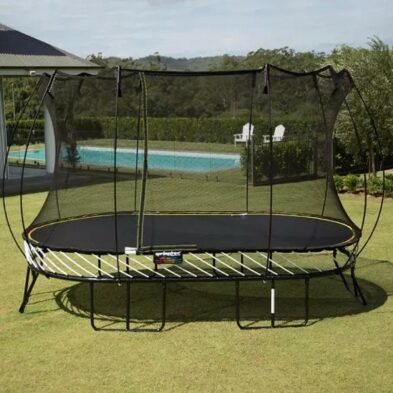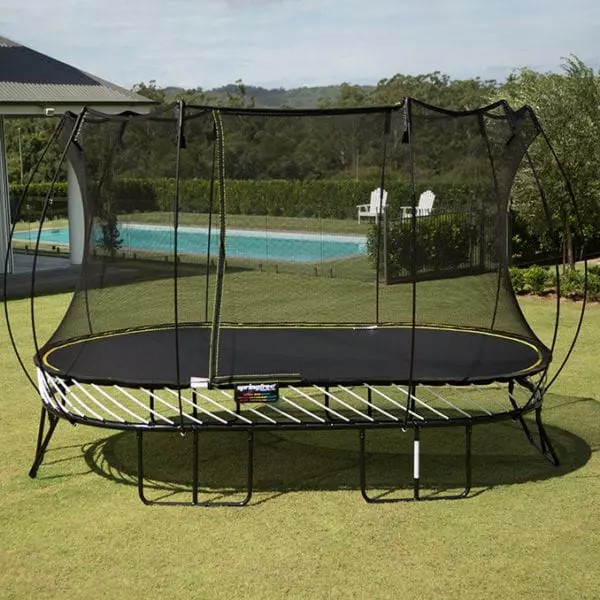 Oval trampolines are the perfect choice for many trampoline jumpers because ovals provide more jumping space than a round trampoline.
They are similar in design to a round trampoline. Compared to the round trampoline, the oval trampoline offers additional bounce around the central area and on the sides. So oval trampolines are a great choice for extra jump and room.
13. Springless Trampolines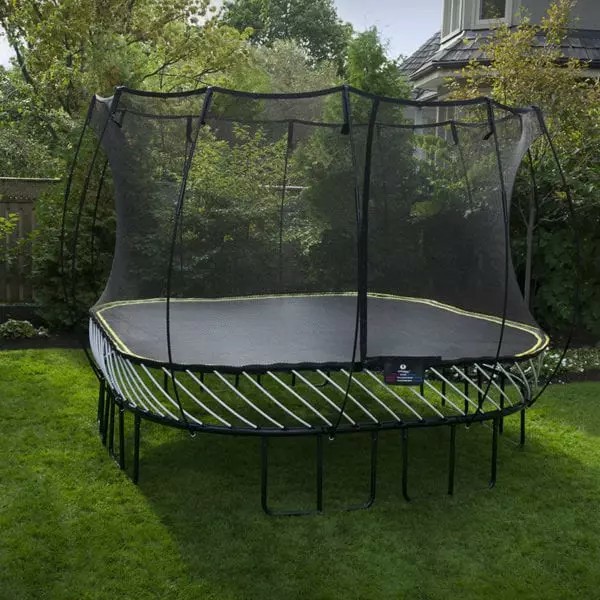 There are even springless trampolines on the market that you might want to consider. These trampolines are becoming more and more popular because they are considered safer options. One of the biggest problems when jumping on a trampoline is about injuring yourself on one of the springs. It can really do serious harm to someone if something goes wrong.
Springless trampolines usually use flexible rods instead of springs. The rods are located under the jump pad. The most popular manufacturer of trampoline springless trampolines is "No Spring." They offer flexible rods with nets and a full jumping surface without dangerous gaps. Overall, greater security is ensured.
However, this type of trampoline has a drawback. Springless trampolines are usually more expensive than traditional models. They have to be created in a special way, and they will end up costing more money than usual. If you want to buy one of these trampolines, you will have to pay a little more for the privilege than your money.
The springless trampoline shown here is quite expensive but also very beautiful. It has no springs, as you would expect, and it also has no sharp edges for someone to get hurt. This will be the safest trampoline you can install in your yard. Children and adults alike can enjoy this trampoline in peace, making it a very good option.
The approximate weight of a jumper on this trampoline is 250 pounds. This means that most adults will be able to jump comfortably on this trampoline without fear that something will go wrong. Those who exceed the limit will want to find an option with a higher payload. The trampoline has to be able to handle 1100 pounds, so just understand the limits before proceeding.
14. Trampolines with Springs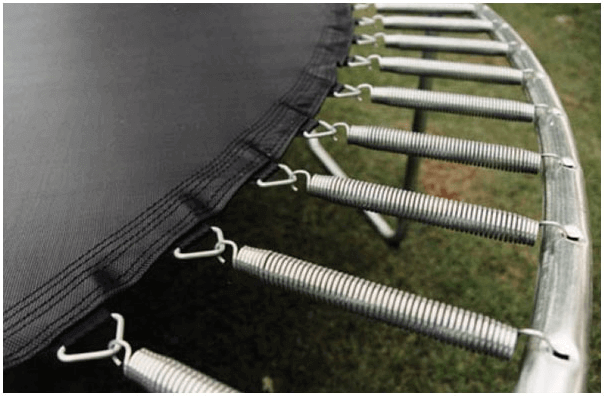 Spring trampolines are widely used trampolines. Traditional trampolines were sometimes mentioned. The larger the number of springs, the higher their rebounds. Typically springs over 7 inches long provide high rebound.
When purchasing these trams, it is necessary to check whether the springs are completely covered by the protective pad or not. A safety pad cover is required for spring trampolines.
15. Olympic Trampolines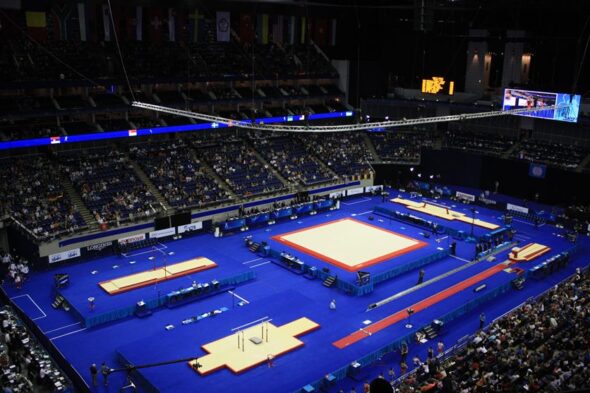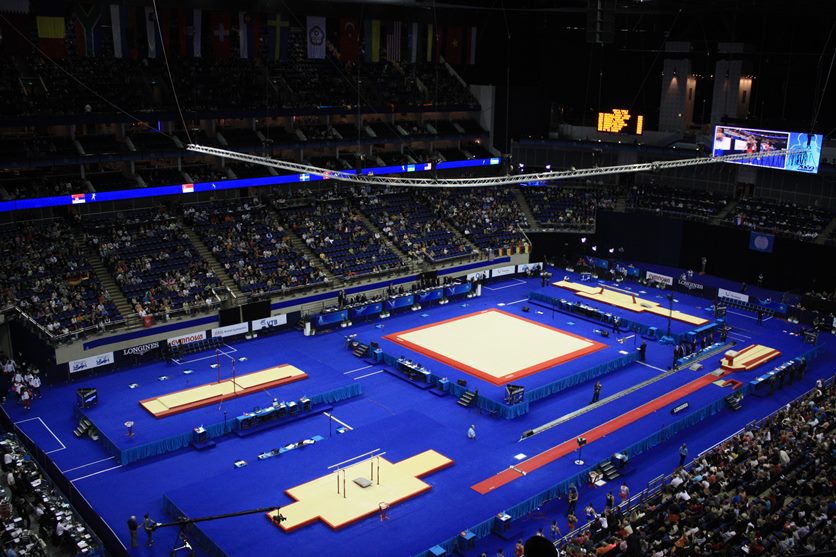 Olympic trampolines (or professional trampolines) belong to a separate league and cannot be compared to any other trampoline model. These large trampolines are specially designed to provide athletes with maximum performance with tremendous power and drive.
Many professional trampolines are specially designed for the Olympic Games and gymnastics clubs and are therefore the most expensive at over $10,000. Due to their increased power and performance, these devices are only recommended for trained persons.
16. Trampolines for Young Children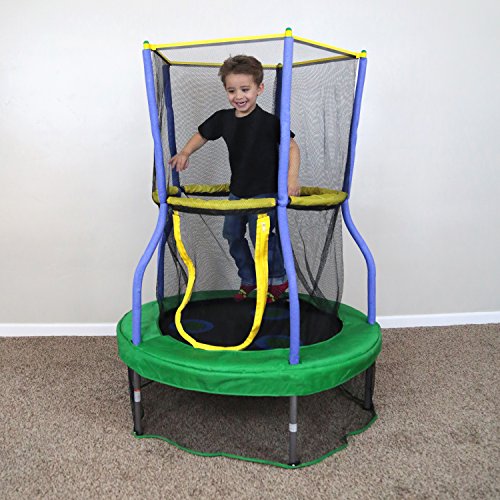 There are trampolines in the market for young children. These trampolines can be a lot of fun for young children and allow them to have a good time with some of their energy. Trampolines in this style usually have a mesh cage around them. This is to keep your child safe while playing.
The trampolines are bouncy enough for your child to have fun, but they won't pose any danger. They must remain safe in the trampoline cage and must never be tied too high to be injured. In it, the child can just crawl and fully enjoy jumping. This is not like jumping on a small bed, but it is significantly safer than doing it.
The lining of this trampoline is also very beautiful. It is made of polypropylene and is woven in a non-slip way. It will not be difficult for your little one to jump up and down without slipping. This will make them even more fun to play without you having to worry too much about minor accidents.
As another safety measure, this trampoline does not have traditional springs. This makes it much safer for your child, and you don't have to worry about getting hurt while playing. It uses thirty stretched belts that can work just as efficiently as springs but are much safer overall. These trampolines are recommended for children from three to seven years old.
17. Recreational Backyard Trampolines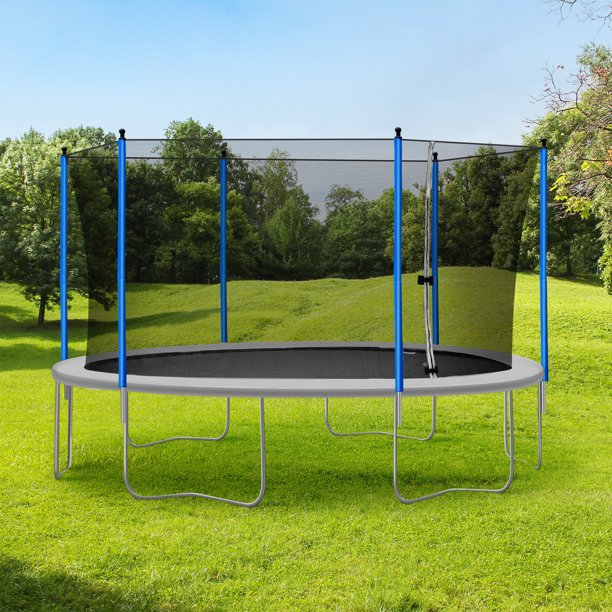 Recreational backyard trampolines are classic childhood memories from the day they were invented, but new technological advances are making them safer, more enjoyable, and more affordable than ever. These trampolines are affordable and take up little space, making them the perfect tool for the whole family!
The large selection of trampoline models is a popular feature of many home backyards. The quality of backyard trampolines can differ greatly between manufacturer, so it's important to always check the overall design and materials used for each product and brand. Trampolines are an investment you can enjoy for years to come, so choose carefully!
18. Bungee Cord Trampolines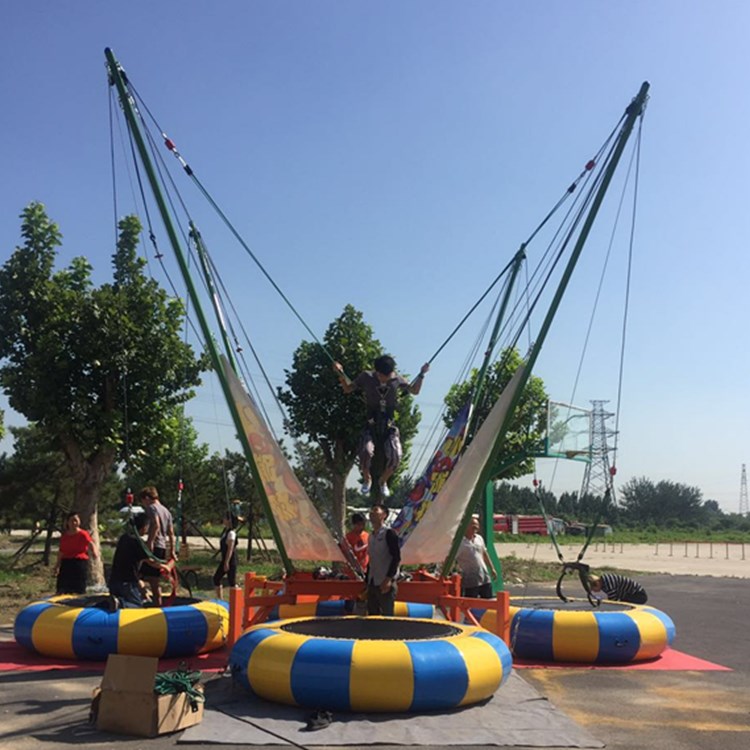 Bungee trampolines are a bit unusual because they aren't really something that you would go out to buy at any type of store. These trampolines are often seen at special fairs or other major events. There are elastic cords that are attached to a structure or possibly a faucet of some kind. Bungee allow jumpers to go higher than ever on a trampoline while still feeling secure.
All in all, this is a special attraction that can be found in certain types of exquisite fairs. You may not have seen anything like it in your life. It is not a common sight for everyone in the world, but it is very popular with people who have come across it. It can give people enough thrills and will definitely come to life one afternoon.
People brave enough to try this type of trampoline usually have some trampoline experience. Bungee is supposed to keep people safe, and staff will keep an eye on everything. However, jumping so high in the air can certainly be a little scary. Whether you like this type of trampoline jumping or not depends a lot on your personal sensitivity.
Factors You Should Consider Before Buying a Trampoline
Mat size – Before considering specific trampoline models, decide what size you need. Trampolines can range in diameter from 36 inches to 15 feet or more. Think about how many people plan to use the trampoline and how old they are. You also need to know if you want to use the trampoline for fun, exercise, or both.
Installing a safety net – The main purpose of a safety net on a trampoline is to prevent users from falling. But additional safety concerns for trampolines include heavy-duty metal springs that secure the jump pad to its frame. Although these springs are often covered with a soft, protective cushion, they can cause injury, especially if the little fingers and toes are flying around. Look for a trampoline with an anti-fall net to avoid this kind of injury.
The durability of parts – How durable is the trampoline parts you are considering? Cheaper parts can save you money in the short term, but you may need to change the net, springs, or trampoline mat at least once a year. Consider spending a little more now if that means your trampoline won't need to be replaced in the coming years.
Tip: Manufacturers who stick to the high quality of their trampolines often offer a free extended warranty.
Conclusion
More important than the shape of the trampoline are the qualities and safety features built into the product. Think of it this way; what is more important in a car accident scenario? A driver's driving skill or a car's make or model? Likewise, the question is how well the trampoline is made and used, rather than in the form of a trampoline, which will determine the safety of the person while using the product. The shape of the trampoline matters, but it needs to be considered along with other things in order to place a well-thought-out purchase order. Remember, unless the trampoline is being used by a professional gymnast or athlete, vigilance or active observation is a must, no matter which trampoline you get.
You are probably already familiar with the different types of trampolines. Trampolines differ not only in shape but also in some other criteria. Every kind of trampoline has its own characteristics and limitations. If you get to know them well and the history of trampolines, you can easily buy the perfect trampolines with your money.