If you want to know the ideal size of a trampoline for your backyard, you have come to the right place, read on below.
Do you want to buy a new trampoline? Then you should definitely determine the correct trampoline size before buying a trampoline so that you will not experience any surprises in the backyard later. Because the trampoline is too big, it may not fit into your backyard. If it is too small in terms of the trampoline size and there is still a lot of space, it's an embarrassment. Therefore, think about and measure before buying: what diameter should my backyard trampoline actually have? Let's take a look at some of the important factors.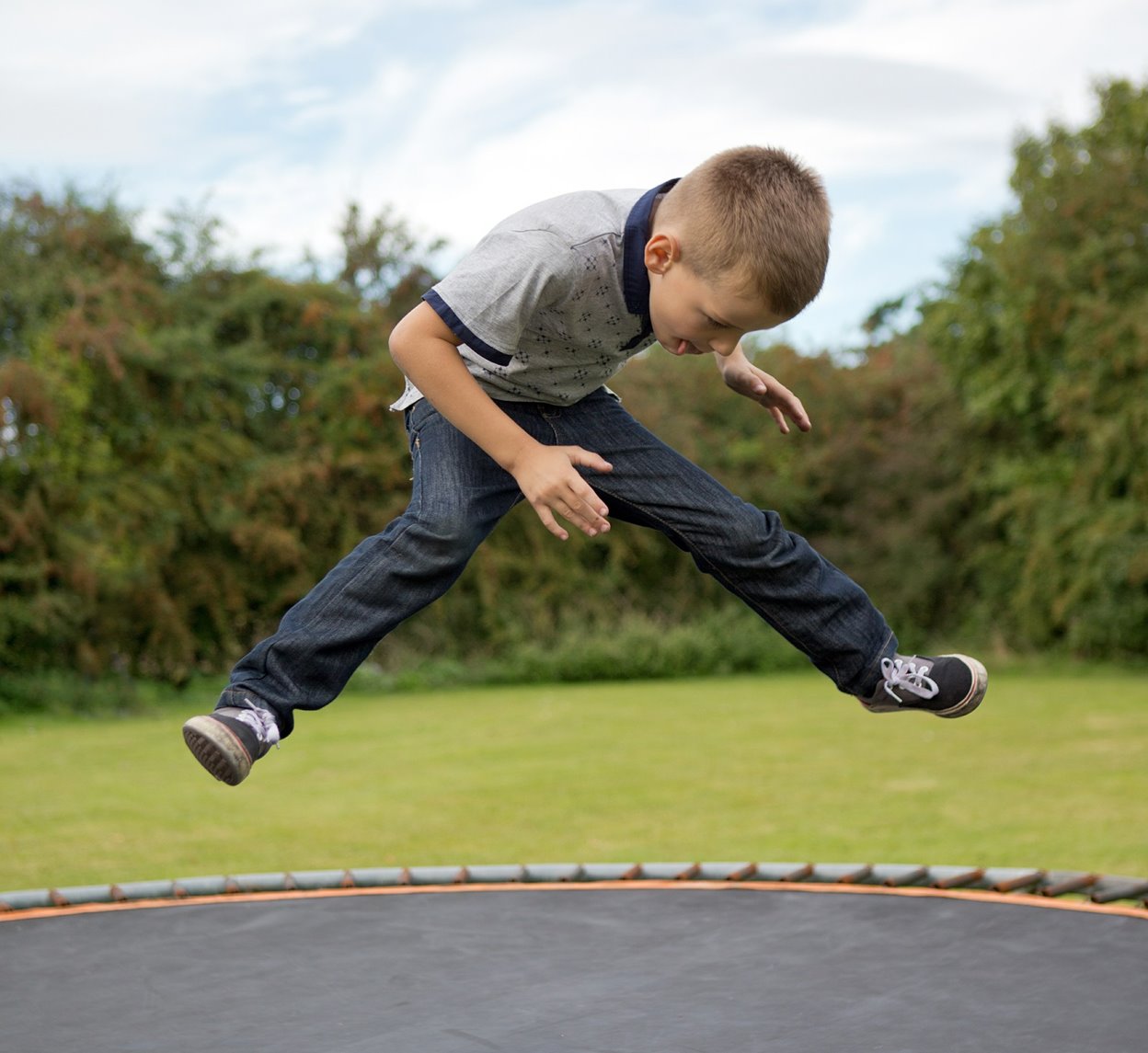 Also read: Trampoline park safety rules you must read
Trampoline Size Guide
How to Choose The Right Size of Trampoline for My Family & Kids?
Buying an offer from the discounter or hardware store at lightning speed and on the side could be a wrong decision in the long term. Always check the below key points before buying the new trampoline for your kids.
Security
Quality
Construction
User experience
Customer satisfaction
The right trampoline size
To worry about. Of course, we cannot determine from a distance which trampoline size fits into your backyard. But we can give you tips on how you can easily determine the ideal trampoline diameter for yourself and then have a lot of fun with the new trampoline at home.
Trampoline Size Chart for All Ages
| | | |
| --- | --- | --- |
| Age in Years | Standard Trampoline Size | Indoor/Outdoor |
| 1-3 Years Age |  Infant / Mini Trampoline | Indoor |
| 4 Years Age | Mini Trampoline / 4.5ft / 6ft | Indoor & Outdoor |
| 5-6 Years Age | 6ft to 10ft Trampoline | Outdoor |
| 7-9 Years Age | 8ft to 12ft Trampoline | Outdoor |
| 10 Years Age | 12ft to 14ft Trampoline | Outdoor |
| 11-13 Years Age | 12ft to 16ft Trampoline | Outdoor / In-ground |
| 14-16 Years Age | 14ft Trampoline+ | Outdoor |
| Adult (Gymnastics) | 10x17ft | Outdoor |
| Adult (Athleticism) | Mini Trampoline / Rebounder | Indoor |
Which trampoline size fits for 1 year?
If you are looking for a trampoline for a 1-year-old, you should consider a trampoline for young children. Suitable for children from 1 to 3 years old. Ensure that the trampoline has a small gap from the floor to the trampoline area; a trampoline for small children with a handle is needed and a lot of padding.
Which trampoline size fits for a 3-year-old child?
With the age limit for a small child trampoline, a 3-year-old has more balance and coordination than a 1-year-old, so you should consider a mini baby trampoline instead of a small child trampoline as it will last longer as they grow. Be sure to read about safety precautions.
Which trampoline size fits for a 4-year-old child?
The trampoline for 4-year-olds is quite challenging, and they are at the age where a mini trampoline or 6-foot trampoline would be ideal if you have a place and a safe place to set up the trampolines.
Which trampoline for a 5-year-old child?
For a 5-year-old, you should consider a trampoline with a fenced net and protective padding around it. A 6ft kids mini trampoline or an 8ft trampoline would be the perfect choice for the trampoline size.
Which trampoline size fits a 6-year-old child?
If you are looking for a trampoline for a 6-year-old, you should consider an 8-foot trampoline or a 10-foot trampoline if you have enough garden space to accommodate a 10-foot trampoline.
Which trampoline size fits for a 7-year-old?
As children grow up, they gain confidence, balance, and coordination, so you should consider a 10-foot or 12-foot trampoline depending on the space. Be sure to read all safety instructions as your child gets more adventurous as they get older.
Which trampoline size fits an 8-year-old child?
The ideal size trampoline for an 8-year-old is between a 10-foot trampoline and a 14-foot trampoline. Ensure you have enough space in the area where you plan to place the trampoline so that there are no obstacles or objects that could cause injury.
Which trampoline size fits for 9 years?
If you are 9 years old and looking for the perfect trampoline, then you should consider a 12ft trampoline next to the largest trampoline you can place in your garden. A 9-year-old can jump on an 8-foot trampoline or a 10-foot trampoline, but this may limit the space available.
Which trampoline size fits for 10 years?
The best trampoline size for a 10-year-old will be between a 12ft and 14ft trampoline. This gives them plenty of room when jumping, as you need sufficient distance from the center of the trampoline to the springs.
Which trampoline size fits for an 11-year-old?
As the kids get older, you will want to take along the largest trampoline that can fit in your garden. This is because it can be used for years without having to upgrade to a larger size. For an 11-year-old kid, a 12ft + trampoline should be considered. A 14 'or 16' trampoline will also work. It just depends on the size of the garden.
Which Trampoline Diameter is Best for Your Kids?
The most common sizes on the market are 140/240/305/360/430 cm in diameter. A few centimeters may differ because some manufacturers create or measure the diameter differently. But you can also find oval trampoline shapes and rectangular backyard trampolines in different trampoline sizes.
The guiding principle here is: do not determine roughly, but precisely!
Space must be found that is at ground level as floor space. Because a hillside location naturally increases the risk of tipping over when jumping on the trampoline. You should also note that there is still around 2 meters of space around the trampoline.
And even if your lawn appears very large, the trampoline should not be parked under a tree or directly against a fence or backyard wall. It is also important that it is better not to place the trampoline in the middle of a lawn directly. Otherwise, the backyard cannot be used for other leisure activities such as football or badminton.
And maybe you also want a place to grill on your lawn. The trampoline must not stand directly next to it; otherwise, flying sparks could damage the trampoline.
The best thing to do is lay out a rope of the diameter you have in mind on the meadow. Measure carefully, then see how the size would fare in your backyard. Do you have more space? Fine, then try a trampoline size up. Do you have problems with the floor space? Then test whether a square or oval trampoline would fit better in your backyard.
A free space of around 1.5 meters is also required around the trampoline, even if a protective net is used. The risk of jumping right next to it is simply too great on a high trampoline!
Trampoline customers rely on average diameters of 300 cm and more.
With our extensive research, users find trampolines with a diameter of 300 cm or more to be the most pleasant. In very comfortable trampoline sizes, these models offer enough freedom of movement and leisure fun for young and old. Because of their size, these trampolines are even safer for children. Because the risk of accidentally falling and jumping "next to it" is less than with a small trampoline.
The Size of the Jumpers
Another thing to consider is the height of the jumpers, or their weights more exactly. A 2.5m model might be more or less suitable for toddlers, but as your kids get older and heavier, you should probably swap it out for a 3m model or more. The latter can support a little more weight and activities.
If adults are going to use it, you should go for a full-size trampoline designed to support increased weight.
How Active Are Your Little Jumpers?
A large trampoline is great for active jumpers, not only for the extra bounce but also for space to move around. As children grow up and become teenagers, they expect a little more from a trampoline, and many of them will start to perform tricks, such as somersaults, to have more fun and to test the limits of their body. Some children using trampolines can be compared to gymnasts in the skills they develop.
What Height of Rebound Do You Want?
You can generally assume that the larger the model, the more bounces it will have. More bounce also means less stability, so when kids are walking sideways, they will need to balance, so they don't fall. This can be great for developing their motor skills, but keep in mind that it can be a little less fun for toddlers if they can't even stand up.
Is XXL Trampoline Safe For Kids?
Actually, for safety reasons, it is not allowed for several children to hop together. The reason is that uncontrolled forces can act on the spine and the bones, so that compression or fractures are possible. Two children under supervision are still acceptable, but buying an XXL diameter trampoline and then letting five children jump on it makes little sense and is not recommended. (Even if you can observe it again and again).
Nevertheless, it would be best if you considered your children's age in the trampoline size choice. Small children like to jump up and down, and a smaller trampoline format would be sufficient for now. A teenager likes to try trampoline tricks and somersaults on the soft jumping surface. However, this is only possible from a diameter of 305 cm. Otherwise, you could land your head on the hard springs. So for trampoline sports, it is better to choose a higher trampoline format and use a trampoline size from 360 cm.
Trampoline Size – The Price Also Changes With The Diameter
Of course, it is also the case that a larger trampoline costs more in price than a smaller trampoline. If possible, parents should use a high-quality trampoline with a diameter of 305 cm or more. However, you should have already determined the available space in the backyard in advance.
How to Maintain Your Trampoline?
To avoid premature wear of the trampoline jumping mat, it is preferable to remove the shoes. The protective tarpaulin protects the jumping mat from bad weather; the rest of the structure can be easily cleaned with soapy water.
Conclusion
With such a large trampoline, which is in a different price range than the common garden trampolines due to its above-average size, many quickly fall into the price comparison madness and pay attention to every penny. If you choose a cheap, but inferior hardware, you are taking great risks. In the worst case, one of your children gets injured and they have to deal with irreparable damage for the rest of their lives. That is very dangerous.
Do your own research. Look out for security certificates. And ideally choose a kids trampoline with high quality workmanship. So not only your children have fun, but you too. Incidentally, the use of such large trampolines is not restricted to children. Try it out yourself!